Well-known member
White Market Member
Joined

Dec 15, 2009
Messages

95
Location
Hi Friends
New Version of the Board available
it started with putting a lot of 51x and VPR modules together, but my main problem was to test these at home and not in the studio. So I designed long ago a self etched Test Adapter that worked ok for a lot of task with mono modules. But now calibrating stereo ones or matching two monos i thought to design a stereo adapter and go a bit further. Of course this adapter works also really good just for mono Modules
check White Market Thread
https://groupdiy.com/index.php?topic=76303.0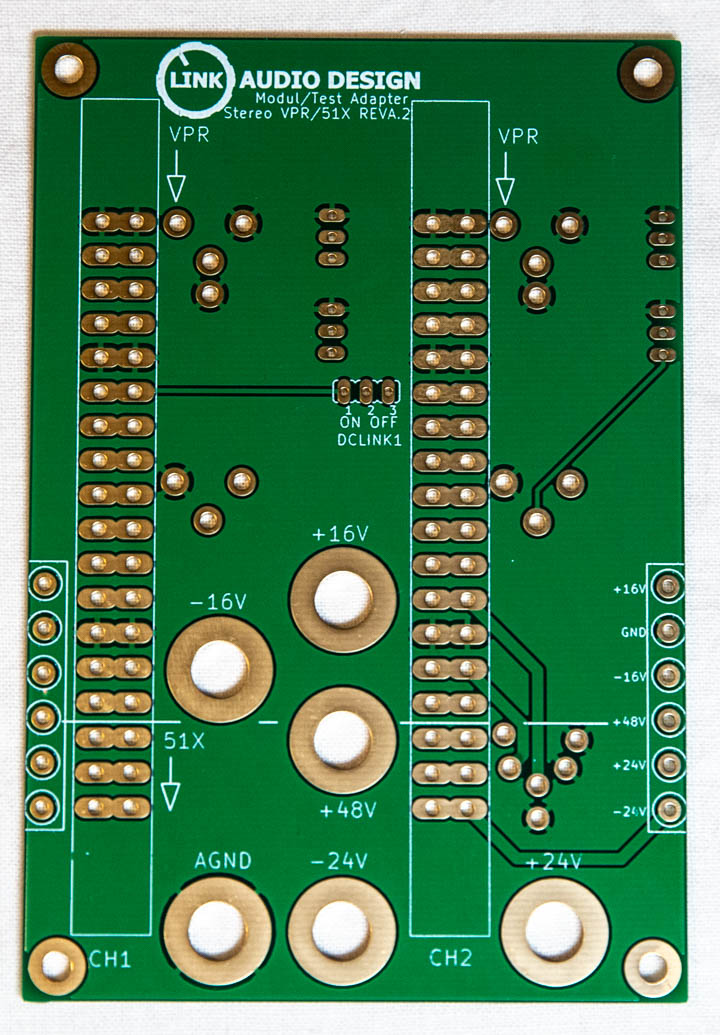 In the lab i use mostly my power supply with 4mm Hirschmann / banana stuff for fast testing and interconnections.  thats why i wanted to have 4mm connectors on it. to help all others i added 5pol XLR for VPR connection and 7 pol 5,08mm Phoenix terminal. for using multiple boards you can build up as many stereo channels and link them via the phoenix connectors.  Also there is an DC Link Jumper .The first PCB dimension is 117mmx80mm but the last 5mm can be cutted easily for in case mount.
The Revision #2 is smaller its just 111mx75mm, so more easy to get more boards next to each other
Also now with ENIG Finish for best results!
you can use 15or 18 position EDAC Connectors either you more producing 51x or VPR
In and Outputs can be connected via XLR Neutrik NC3 FAV/MAV or via 3pin 2,54mm Molex connectors
For my own Taste i use two pcbs and put all the parts of the back on one and all the parts of the front and connect them via some cables/ hardwires and put some spacers between for standalone version that can stay upright
sadly i have a small error in the design, since you should never trust eagle librarys and draw all the stuff on your own. the two EDAC connectors are 2mm too far from each other away thats why soldering have to be like this. best is to put an existing stereo module in and then solder just some pins that they are in the perfect way.so the two edacs will be a bit angled. i will change this error in the next revision
Partslist is really short
2 EDAC 15/18 PIN Connector order via Jeff(USA-Capi) or Volker(Europe-Silent Arts)
1 NC5MAV
2 NC3MAV
2 NC3FAV
6 4mm Hirschmann/Banana Connector
1 3 Pin 2,54mm Jumper
4 3 Pin 2,54mm Molex
2 7 Pin-5.08mm- Phoenix Terminal Connector
check what of these parts you want to use for your project
here i go with some more pics