Another Schoeps mic from Aliexpress like the MXL990 and Apex 435, goes for 66$ at the moment.
But this time it seems that the build quality is better.
Capsule is the usual Chinese 32mm K67.
I've done the usual mods (values from MXL990 schematic).
1. Removed R8 and C13, polarized the backplate directly, capsule center wire to JFET Gate.
2. Swap output Pins 2/3 to correct polarity after polarizing the backplate.
3. Zener diode changed to 9.1v, polarization voltage is exactly 60v now (was 6.8v and 43v).
4. Added bias trimmer (R13) and biased 3/4 and 1/4 of VDD at Source and Drain, stock pair was 470k+75k ended up 470k+60k so it was not far off.
5. Coupling caps C3 and C4 upped to 1uF.
Great mic after the mods, very low self noise too.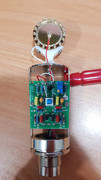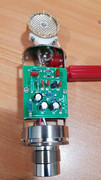 PS.
A very important note.
If you just brought the mic package from the cold post office into your warm house DON'T open it right away, wait till the package warms up to house temperature.
You all know how a cold soda can condensates a lot of moisture from the warm air..... yeah, my mistake, the entire mic was wet in seconds including the capsule, but now it is dry, working, and sounding great.
MXL 990 Schematic for reference.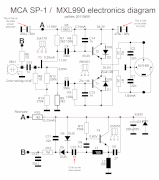 Last edited: