Well-known member
White Market Member
Joined

Dec 15, 2009
Messages

97
Location
Hi Friends
Since the last weeks i'm designing different DI Boxes in business card Format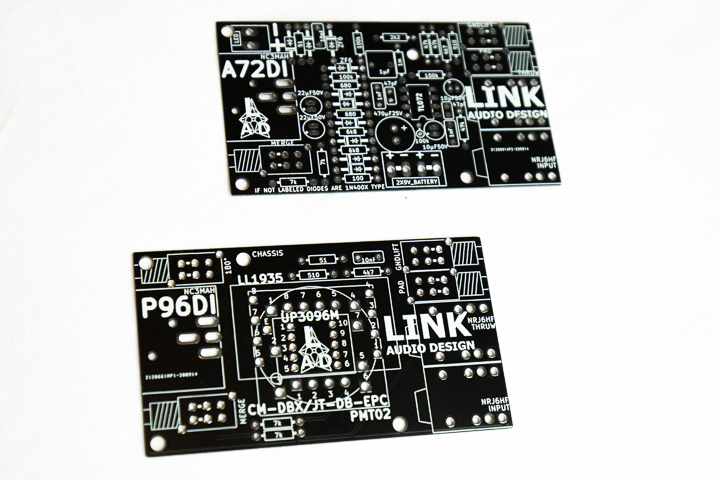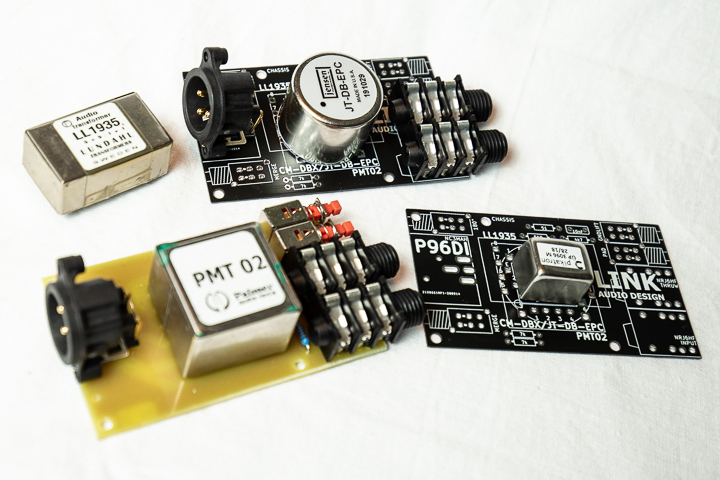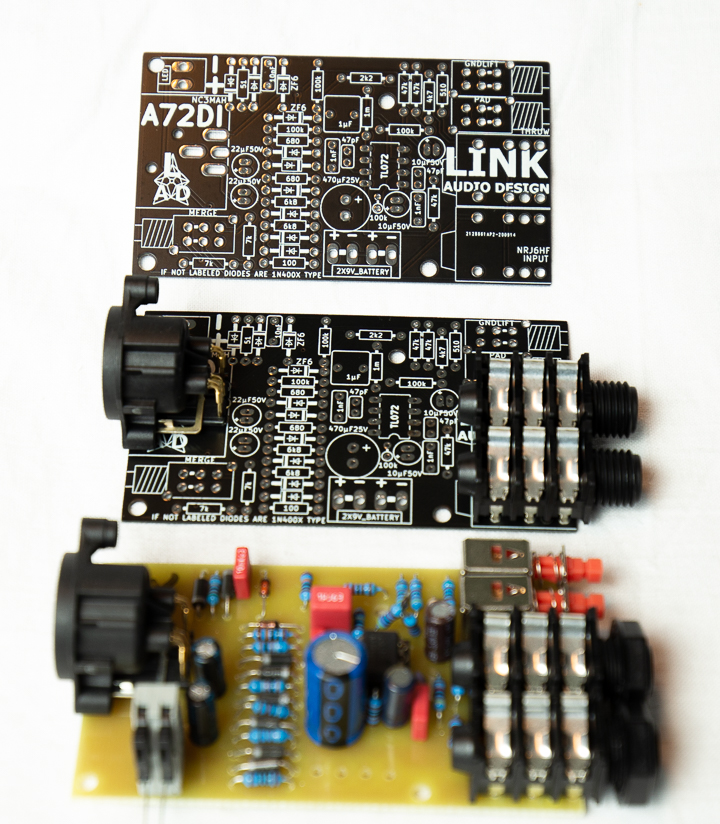 Active DI Box works with easy to get standard electronics parts.
The passive Version works with different High End Transformators
Lundahl LL1935
Jensen JT-DB-EPC
Pikatron ÜP3096M
Cinemag CM-DBX
Palmer PMT02
Both DI Boxes have An Pad, GndLift and Merge Switch. Active Version can run on 2x9V Battery. Passive Version have a Polarity Switch.
I also did comparison with different DI Boxes to find out how different they sound, the difference in Level
P96DI Lundahl LL1935 -> 0.0dB
P96DI Jensen JT-DB-EPC -> -1.7dB
P96DI Pikatron ÜP3096M -> -3.9dB
P96DI Palmer PMT02 -> -0.2dB
A72DI -> +7.0dB
Bo Hansen -> +7.2dB
Behringer DI 400 -> +0.6dB
Sound samples can be found here
https://soundcloud.com/linkaudiodesign/sets/di-box-comparison
Boards available in my White Market Thread or with every bigger order one is for free
White Market Thread
https://groupdiy.com/index.php?topic=76303.0
All Build Info(BOM,Schematic/Overlay/Stepbuild) will be avaivable under this link
https://docdro.id/FRChuxO
Parts for the units
passive one
INPUT,THRUW NRJ6HF 2xNRJ6HF
X1 NC3MAH 1 x NC3MAH
T1 JENSEN 1 x CM-DBX/JT-DB-EPC
T2 LUNDAHL 1 x LL1935
T3 PALMER 1 x PMT02
T4 PIKATRON 1 x UP3096M
RPAD1 0207_10C 1 x 4k7
RPAD2 0207_10C 1 x 510R
RFGNDLIFT1 0207_10C 1 x 51R
RPAD3,RPAD4 0207_10C 2 x 7k/6k8
C1 C050-075X030 1 x 10nF
GNDLIFT,PAD,180°,MERGE ALPHAMINIDPDT 4 x ALPHA SWITCH
active one
R8 0207_10C 1 x 100k
RPAD6 0207_10C 1 x 4k7
R7 0207_10C 1 x 100R
R9,R12,RPAD2 0207_10C 3 x 100k
R10 0207_10C 1 x 1m
R11,R13,R2 0207_10C 3 x 47k
R14,R15 0207_10C 2 x 680R
R17,R18 0207_10C 2 x 6k8
RFGNDLIFT1 0207_10C 1 x 51R
RPAD1 0207_10C 1 x 510R
RPAD3 0207_10C 1 x 2k2
RPAD4,RPAD5 0207_10C 2 x 7k/6k8
PAD,GNDLIFT,MERGE ALPHAMINIDPDT 3 x ALPHA SWITCH
C7,C4 C025-050X025 2 x 47pF
C10 C050-075X030 1 x 10nF
C14,C15 C050-075X030 2 x 1nF
C1 C050-075X080 1 x 1µF
C8,C9 CE-020X050 2 x 22µF50V
C6,C2 CE-020X050 2 x 10µF50V
C5 CE-035X100 1 x 470µF25V
IC3 DIL08 1 x TL072
D1,D5,D6,D7,D8,D11,D2 DO41-10 8 x 1N4005
D4,D9 DO41-10 2 x ZF6.2
LED KK-156-2 1 x LED
2X9V_BATTERY KK-156-4 1 x KK-156-4
X1 NC3MAH 1 x NC3MAH
INPUT,THRUW NRJ6HF 2 x NRJ6HF