Hi All.
So I bought a Collins 356 module some time ago and am finally trying to get it running. Right now just trying to do a basic test that its working before I start to build a case and add 48v, pad etc... This is my first time doing a project like this.
the schematic is here: http://collinsradio.org/archives/manuals/356A.pdf
I have two linear power supplies for is 250v from International Power (https://www.mouser.com/productdetail/international-power/ihb250-01?qs=0xCm9DOQnC5apaiylMDitA%3D%3D) And +/- 6v is a second hand one made by Lamda.
I wired it up last night and nothing blew up or caught fire. But its not working yet. Maybe a grounding issue?
With a mic plugged in I get a huge amount of 60hz hum, but it does pass some audio.  So maybe I am wiring inputs/outputs wrong?
I have the mic wired to pins 1 and 2 of the plug (3rd pin of the XLR is connected to nothing),  the schematic also shows pin 7 as an input but on my module that pin is not connected to anything inside....
How should I go about making a balanced connection to this thing?
Also when i disconnect the mic the preamp starts self oscillating really loudly. around 1.5k and up....
I dont know why this might be...
I do see a wire that used to connect pin 1 of T202 to pin 7 of V202, its hanging loose as if the solder joint broke off. When I try connecting it tho I get a different oscilating sound, this time coming out of the microphone!
The preamp has been recapped so there are some resistors and other things in there that look like they are not in use anymore, but this one looks more accidental....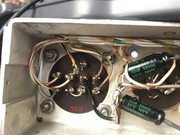 Another thing I am looking at that seems strange, is on T201 pins 6 and 7 are jumpered together. meaning they are both going to ground? They also connect to pin 1 of v201, so that is going to ground too? pin 2 of v201 is also connected to the same ground lug...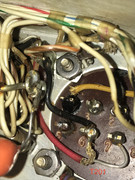 Any advice on how to proceed would be greatly appreciated!!
I am very novice with this stuff and haven't been able to find any general guides online that answer questions like "how to connect a power supply to a tube amp" or "how to wire a balanced mic input"
thanks
Asher